In 2019 our Flavours of the World focus is entirely aimed at an immensely talented country. You'd struggle to find another country in Europe with such a long and established successful filmmaking tradition as Denmark. 
From the very beginnings of the human film experience, the Nordic country set itself apart, battling for world domination with the early Hollywood system, despite a drastically unbalanced scale of resources. In the many decades that followed, artists such as Carl Theodor Dreyer and Billie August set the stage for what could be easily predicted and, in 1995, we saw the birth of the single most important and influential film movement of our age: the Dogme 95 Movement.
Once again, thanks to a group of unique young artists, Denmark is setting itself as a mecca for film buffs around the world, tempered with its unique blend of provocative and ground-breaking cinema.  
And there will be more brand new Danish productions spread across the program.   
FLAVOURS OF THE WORLD SELECTION
New Danish cinema
The Sound Of Unexpected Death – Alexander Sagmo (Denmark)
Floreana – Louis Morton (Denmark)
The Elephant - Kerren Lumer-Klabbers (Denmark)
Weltschmerz – Jesper Dalgaard (Denmark)
Maja – Marijana Jankovic (Denmark)
Feature Film Screening #1
A Royal Affair – Nikolaj Arcel (Denmark)
Feature Film Screening #2
The Hunt – Thomas Vinterberg (Denmark)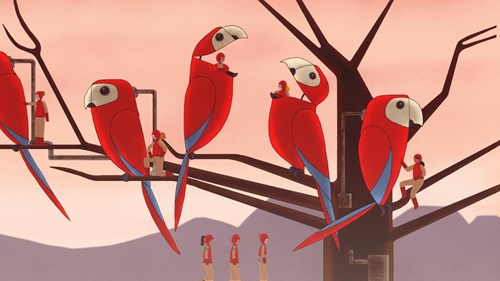 Floreana - Louis Morton
FESTinha, a space familiar to our younger audiences, could only grow in FEST's 15th celebration.

For 10 years now, FESTinha has been dedicated to showcasing filmmakers' work focused on younger crowds and, since 2014, it has not only exhibited children and teen-oriented films, but it also includes a competitive nature, with a jury formed by children and teenagers from different ages. Today it's a well-oriented section, with a solid identity of its own that finds itself divided into three age groups: Sub-10, Sub-14 and Sub-18.
In the Sub-10 category, we highlight Julia Ocker, that has quite a few films showcasing in this year's edition, each one referring to the daily life of the animal, that gives the title to the film. Still, regarding the Sub-10 category and straight from Australia, we highlight the film Lost & Found, an animated movie different from anything we have seen, whose characters are made out of wool and that sends the message of the value of friendship.
FESTINHA SUB-10 SELECTION
Session #1
The Bird & the Whale - Carol Freeman (Ireland)
Spark - Jacob Patrick (USA)
Anglerfish - Julia Ocker (Germany)
Ant - Julia Ocker (Germany)
NEST - Sonja Rohleder (Germany)
Roundabout - Noah Gavrich (USA)
No! - Christian Kaufmann (Germany)
No Gravity - Charline Parisot, Jérémy Cissé, Fioretta Caterina Cosmidis, FLore Allier-Estrada, Maud Lemaître-Blan Abraham (France)
Little Grey Wolfy - Spring and Icy Drift - Natalia Malykhina (Norway)
Vivat Musketeers! - Anton Dyakov (Russia)
Session #2
Giraffe - Julia Ocker (Germany)
Lion - Julia Ocker (Germany)
Talent Scout - Jose Herrera (Spain)
Colourbirds - Oana Lacroix (Switzerland)
Caixinha - Mariana Pita (Portugal)
KUAP - Nils Hedinger (Switzerland)
Koyaa - Naughty Toy Car - Kolja Saksida (Slovenia, Croatia)
Bat - Julia Ocker (Germany)
Bear - Julia Ocker (Germany)
Grandpa and Go - Han-Ping Lin (Taiwan)
Macaron Love - Jun-Hao Chen (Taiwan)
Red Panda - Keyon Guo (Singapore)
Session #3
Ballad of pipe and necklace - Martin Babic (Croatia)
Penguin - Julia Ocker (Germany)
Earthworm - Julia Ocker (Germany)
Lost & Found - Andrew Goldsmith, Bradley Slabe (Australia)
Freedom - Stéphanie ONG (France)
Master painter Bah Bizon - Uli Seis (Germany)
O Malabarista - Iuri Moreno (Brazil)
Look - Meinardas Valkevičius (Lithuania)
Koyaa - Dancing Socks - Kolja Saksida (Slovenia)
Session #4
Sloth - Julia Ocker (Germany)
Slug - Julia Ocker (Germany)
Washing Day - Claire Lamond (UK)
Barbaer - Luzia Schifferle, Tobias Speiser (Switzerland)
The Ape Man - Pieter Vandenabeele (Belgium)
The Man Who Could Fly - Jaroslav Klimeš (Czech Republic)
Wired - Zeyu Ren (USA)
Pinkish - Zoe Papatheohari (Australia)
Waikiki - Maris Brinkmanis (Latvia)
Koyaa – Freezing Scarf - Kolja Saksida (Slovenia)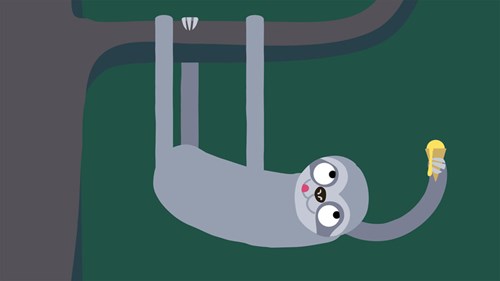 Sloth - Julia Ocker
In the Sub-14 section, we highlight Don't Feed These Animals, a Portuguese animation that tells the story of a lobotomized bipolar rabbit living in a lab and with a strange fixation for carrots. In a rather cartoonish style, the directors revealed to have been strongly inspired by the Looney Tunes and Dexter's Laboratory universe. Also worthy of attention is the fiction short Blooming that addresses a young woman's first menstruation.
FESTINHA SUB-14 SELECTION
Session #1
Don't Feed These Animals - Guilherme Afonso and Miguel Madaíl de Freitas (Portugal)
Alone - Antoine Laurens (France)
Swift - Byeo Ri KimHae, Deun Woo and Ye Bin Ahn (USA)
Carlotta's Face - Valentin Riedl, Frédéric Schuld (Germany)
Monsters Walking - Diego Porral Soldevilla (Spain)
Motten - Clara Zoe My-Linh von Arnim (Germany)
Ronaldo - Recep Bozgöz (Turkey)
Save Our Souls - Sean Lin, Nicholas Chin (Indonesia)
Oblivion - Xenia Grey (Spain)
Looking For Something - César Pelizer (UK)
A Fish in a Punch Bowl - Tanja Hurrle (Germany)
Session #2
How and why Don Jose Dissipated - Moshe Ben-Avraham (Israel)
MVP - Artur Marcol (Poland)
Bráška - Kelly Butler, Lukas Sunderlin (USA)
Underground - Jun Bae (USA)
Blooming - Dora Šustić (Czech Republic)
Nine Lives - Vojtech Papp (Czech Republic)
Birthplace - Sil van der Woerd, Jorik Dozy (Indonesia)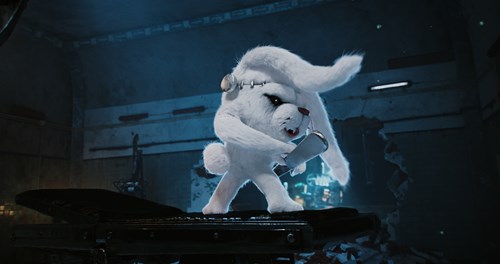 Don't Feed These Animals - Guilherme Afonso and Miguel Madaíl de Freitas
The Sub-18 section has three feature-films competing. Bringing us talents from Italy, the US and Canada the films range through various subjects such as fidelity, the complexity of the adolescent years and the dangers of social media, in a cocktail of comedy, drama, and documentary.
FESTINHA SUB-18 SELECTION
Imperfect Age - Ulisse Lenadro (Italy)
Like - Scilla Andreen (USA)
The fall of Sparta - Tristan Dubois (Canada)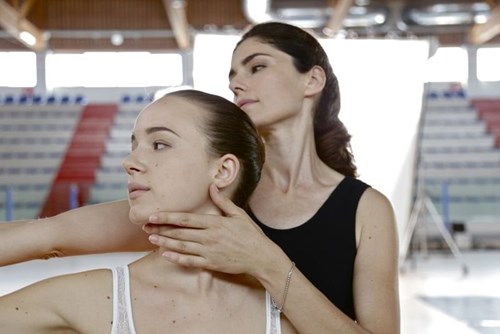 Imperfect Age - Ulisse Lenadro
Lost in the Metaverse brings us two sessions that guarantee to keep our audience wondering. With outer space and the Earth itself as the main protagonists, this section continues committed to exploring the potential of Virtual and Augmented Reality in Film.
Dynamic Earth is a film by Mike Bruno that explores the relationship of Earth with the different elements that take their toll on her. With a strong accentuation towards the comprehension of climate change, this film worries about educating for science whilst simultaneously offering entertainment. This is a unique format that represents Earth as the living being it is and tries to analyze it from the inside out. 
Explore is a Maciej Ligowski production and it tells the story os the human ambition behind the will to colonize Mars. With the goal to enhance the audience's immersive experience, the film goes deep into scientific facts, trying to explain them in a way that decodes the mystique of space exploration and also teaching how individual achievements can change the world. 
LOST IN THE METAVERSE SELECTION
Terra Dinâmica – Mike Bruno (USA)
Explore – Maciej Ligowski (Poland)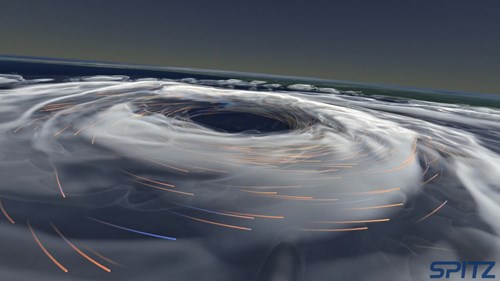 Dynamic Earth - Mike Bruno
Come and join us to celebrate 15 years of FEST from 24th of June to July 1st in Espinho, Portugal.